Jungle Camp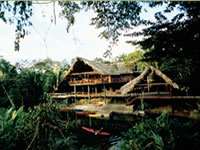 The Jungle Camp is an elegant and sophisticated building, which almost floats among the leaves and branches of the rainforest. It is situated in the heart of a 13,000-acre private nature reserve and built sixteen-feet above the riverbank. It is surrounded by protected areas on three sides and constructed of tropical hardwoods, reds, tans, mahogany colors. The rustic yet elegant architecture is harmoniously merging into the surrounding jungle canopy!
The Lodge features a spacious lounge, bar, and dining area with a traditional thatched roof and a series of observation decks stretched over the river and into the forest. Each cabin has a private veranda cantilevered over the rivers edge. The bungalows are fully screened, with sumptuous beds, fine linen, deep-pillowed chairs, giant ceiling fans, and a tiled hot-water shower and bath.
The only way to get to the Jungle Camp is by taking a river expedition deep into the Belizean Jungle. Escorted by your personal Mayan guide, you embark from Fig Tree Landing and follow the winding Golden Stream deep into the rainforest. For three hours you head deeper into primeval jungle, alone with the wilderness.
Guests staying at Jungle Camp must spend the first night at Indian Creek Lodge.

Amenities:
Ceiling fans
Kayaks
Hot water
Restaurant
Bar and lounge
Nature trails