Hotel Villas del Pacifico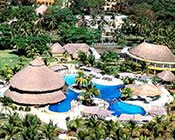 The Hotel Villas del Pacifico Resort & Conference Center is located on the Pacific Coast of Guatemala in Chulamar near Puerto San José. The Villas del Pacifico is the ideal place for the entire family to relax and enjoy the beauty of Guatemala's Pacific wild Pacific coast.
Lots of fun activities on and around the beach as well as indoor attractions will keep guest well occupied. The Hotel Villas del Pacifico features several restaurants and bars that provide meals, snacks and drinks from early in the morning until late at night. "All inclusive" and "Breakfast only" plans are available.

All rooms at the Hotel Villas del Pacifico are air-conditioned. Each room has two double beds, a large bathroom, cable TV, safety deposit box and a balcony.